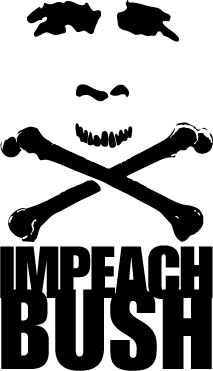 impeach: to cast doubt on; especially : to challenge the credibility or validity of (Merriam-Webster definition 2)
The following images are released to the public domain, feel free to use, edit, alter, propagate, mutate, link to and sell as much as you wish.
Impeach Bush - Printable Poster (8.5 x 11, B/W PDF)
Impeach Bush - Red, White, and Blue Banner Ad
Impeach Bush - Black and White Banner Ad
If anyone wants to make more versions, please do. Post them everywhere, if I get them I'll post as well. Let the ideas spread, freely.